For the next few months we challenge you to complete a tour of Asia - starting in Turkey, then passing through Syria, Saudi Arabia, Iraq, Iran, Turkmenistan, Uzbekistan, Kazakhstan, Kyrgyzstan, Afghanistan, Pakistan, India, Nepal, Bangladesh, Myanmar, Thailand, Vietnam, Hong Kong, The Philippines, Taiwan, Okinawa, Japan, South Korea, and China.
The tour will open as an event on 1st June, and will be open throughout the summer. Each leg varies from 300 to 600 nautical miles in length, and aircraft choice is open for
everybody
.
Remember - if you pre-file through Simbrief you will be hit by the restrictions of the aircraft type and your rank - if you make your own route, you can fly anything you like.
Map of the route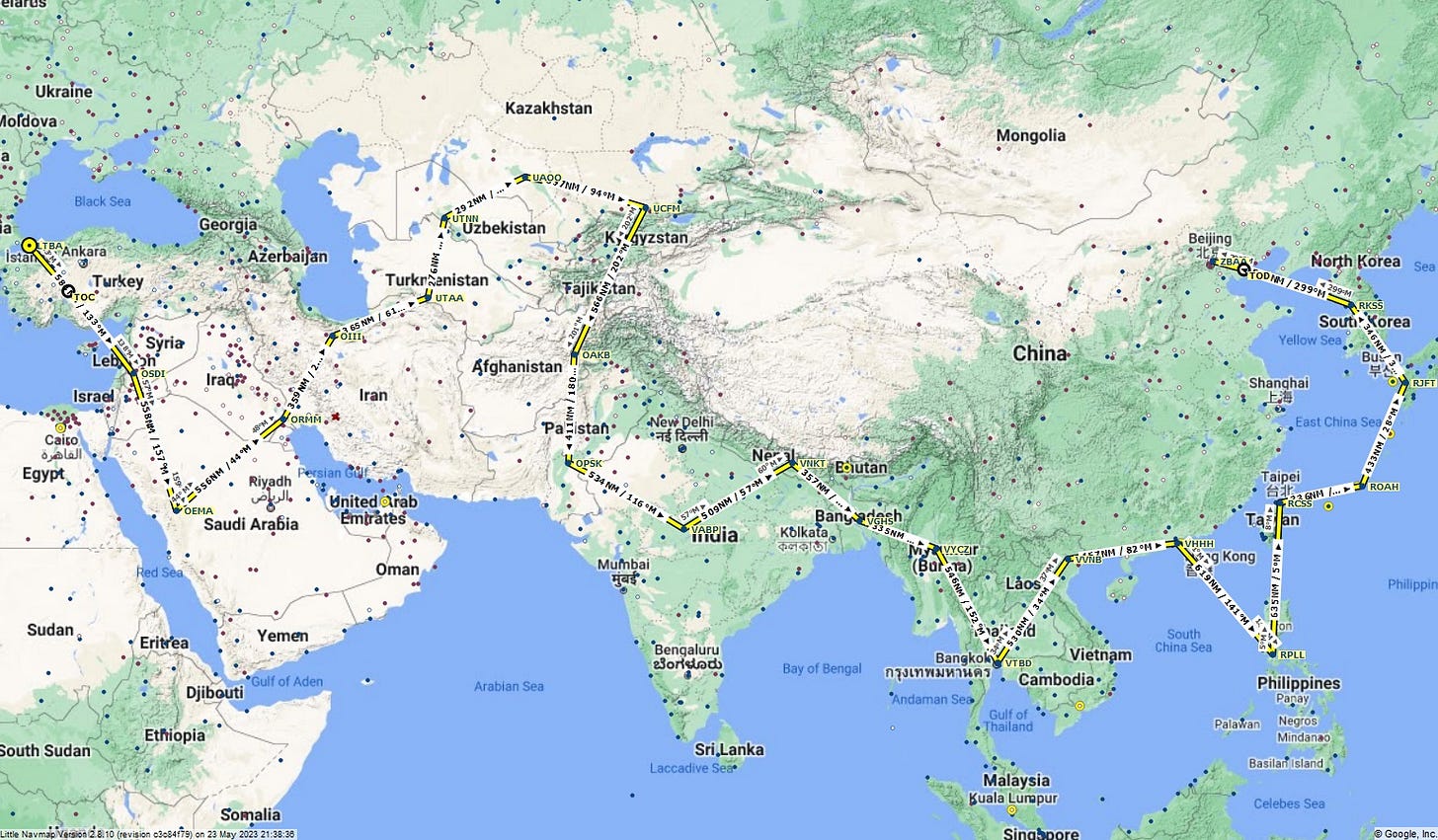 Airports
Here's a list of the airports you'll visit:
LTBA Ataturk
OSDI Damascus Intl
OEMA Pr Mohammad Bin Abdulaziz Intl
ORMM Basrah Intl
OIII Mehrabad Intl
UTAA Ashgabat
UTNN Nukus
UAOO Kyzylorda
UCFM Manas
OAKB Kabul Intl
OPSK Sukkur
VABP Bhopal
VNKT Tribhuvan Intl
VGHS Hazrat Shahjalal International Airport
VYCZ Chanmyathazi
VTBD Bangkok Intl
VVNB Noibai Intl
VHHH Hong Kong Intl
RPLL Ninoy Aquino Intl
RCSS Songshan
ROAH Naha
RJFT Kumamoto
RKSS Gimpo Intl
ZBAA Beijing Capital
Find it on the website
You can find the tour here:
Share your journey
To chat with the rest of the community about your flight planning, journey, and adventures along the way, head to the forums:
Fly with friends
Why not turn each leg into a group flight? Take advantage of both Discord and Teamspeak to fly with company - invite others to fly legs with you, and post the invitations to the invitations forum, or discord.